BalkanPips

Number of messages

: 9


Points

: 1915


Date of Entry

: 2013-02-07

on Mon Feb 11, 2013 1:43 pm
Evo teme za eur/usd par. Da vidimo ko sta kako itd...
dzonefx

Moderator


Number of messages

: 580


Points

: 3302


Date of Entry

: 2013-01-29


Year

: 47
Residence Country : Beograd

---
on Mon Oct 12, 2015 11:30 am
Neću mnogo da dužim , imate odličnu priliku za BUY na EURUSD.Signal je jak i jednostavno cena je se katapultirala na gore. Pogledajte 15M grafikon sa moje MT4 platforme.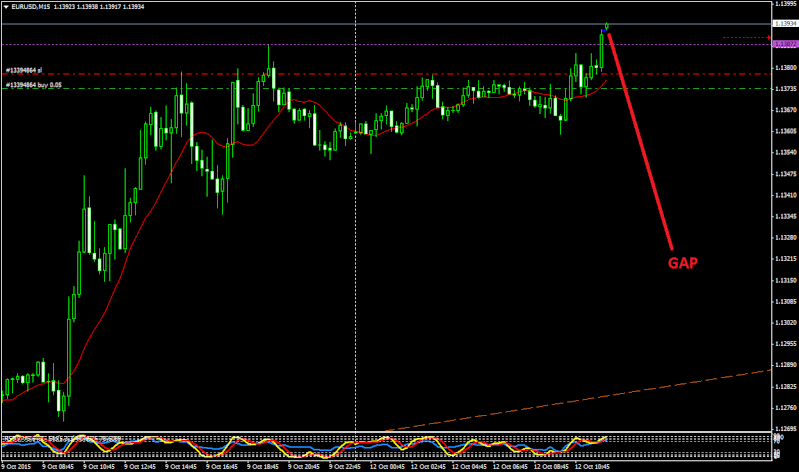 gandra

Global Moderator


Number of messages

: 3502


Points

: 7583


Date of Entry

: 2013-01-13


Year

: 47

on Sun Oct 25, 2015 9:13 pm
---
Pre mog osvrta na ovaj valutni par i dešavanja u predhodnih 6 dana želim da vas obavestim da smo na forum dodali jedan ekstra koristan alat koji će vam pomoći u analiziranju kretanja na OTC tržištu , kao i mogućnost da pogledate šta drugi misle, a reč je o
Pametnim Grafikonima
,link ka njima se nalazi na dnu desne strane od foruma.
---
Izgleda da kada Mario Dragi govori o monetarnoj politici i kamatnim stopama Euro po pravilu pada na dole po dvesta pipa svaki put. Da li je reč o slabosti Evropske ekonomije ili o čistoj kompezaciji . Naime ako ste primetili u trenucima pada eura u odnosu na sve valute naglo je porastao Nemački GER30 Ideks.Pa je moje skromno mišljenje da će Euro da se vrati polako u cenovni sektor gde je bio pre ovog naglog pada i da će rastući trend polako ali sigurno da se nastavi. Cena je se samo odbila na dole do donje linijie podrške i tu i ostala,odnosno nije uspela da je probije ,bar za sada, pogledajte grafikon EUR_USD sa Fibo Kanal nivoima i sve će vam biti jasno.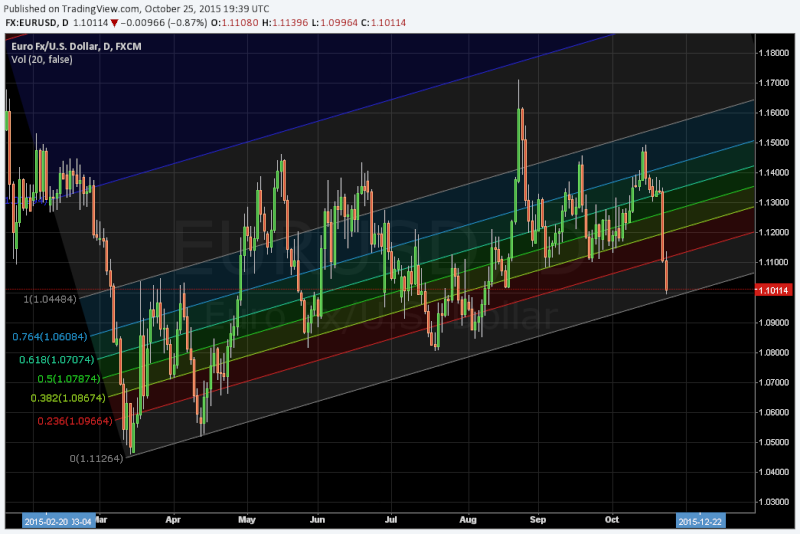 Ja ne mogu sa 100% sigurnosti sada tvrditi da će se desiti UP trend ali koliko vidim to je evidentno pogotovo i što mnogi indikatori pokazuju da je došlo do prekomerne prodaje .Sledeće nedelje očekujemo neke mnogo važne vesti vezane za Američku ekonomiju ,ponedeljak ,četvrtak,petak.Kao i pojedine ekonomske vesti vezano za Nemačku ekonomiju srednjeg inteziteta,pa će mo videti.
Iskreno mislim da evro neće vredeti 1,1 dolar i da će se vratiti na 1,14 i više. Svakako slab evro pojeftinjuje robu iz evropske unije na drugim tržištima ,a što svakako ne odgovara ni Američkoj ni Japanskoj Ekonomiji jer upravo njihova roba na tržištu evropske unije postaje sve skuplja i skuplja što je evro slabiji.
Iskreno se nadam da sledeće nedelje i meseca nećemo opet videti još i Grčki scenario kada je Evro katastrofalno pao ,pa iz tog razloga i mislim da su ovo najniže grane ali ne i samo dno i da je pravo vreme za kratku kupovinu ovog valutnog para!
Permissions in this forum:
You
cannot
reply to topics in this forum