on Wed Mar 20, 2019 1:04 pm
Pozdrav svima,
Mala analiza i prilike za ulaze za Paladijum. Elem paladijum u zadnje vreme ima neverovatan rast. Takodje je otporan na politicka i ekonomska komesanja koja su vezana za valute. Sto na primer zlato nije: XAUUSD ili XAUEUR ili Gold cfd , itd.  O paladijumu bi ste trebali da znate sledece. Najveci proizvodjac paladijuma je Rusija.Najveci kupci Kina,Indija, SAD.  A najveca primena paladijuma je u  baterijama za elektricne automobile, sto vam sve govori!
 Da pogledamo grafikone:
Paladijum na mesecnom nivou: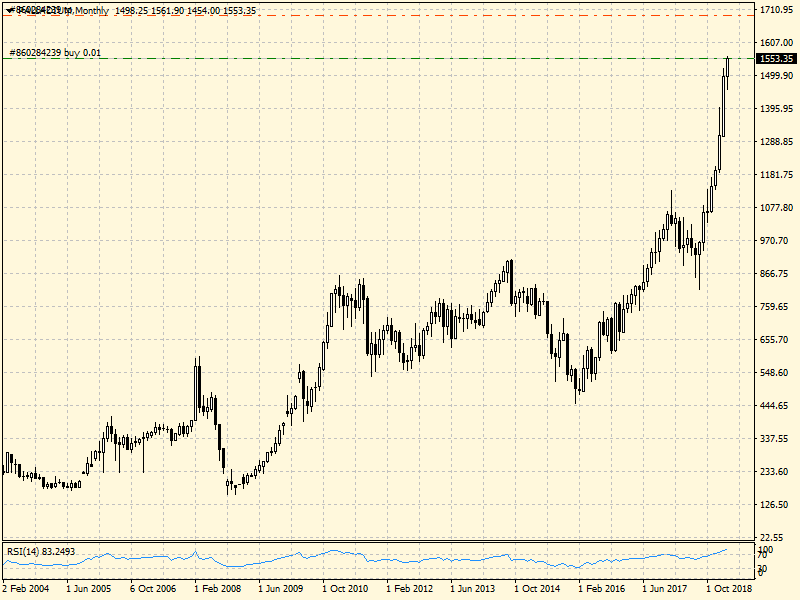 Paladijum na dnevnom nivou:
Znaci cena konstantno raste od jula prosle godine. Paladijum je prevazisao i zlato. Opet neko kaze da je prenaduvan i da ce cena da pukne kao balon. Mada po svoj prilici izgleda da nece. Cena zavisi od ponude i traznje. Posto je traznja velika a proizvodnja tolika kolika je. Znaci nemoze da zadovolji potraznju. Logicno je i da cena raste. Oce Rusi da naplate sankcije hehehe. Takodje kada trgujete sa robom veoma je vazno da pratite par stvari kao sto su: proizvodnja,ponuda i traznja,  stanje na zalihama. Evo par mesta gde mozete dobiti neke informacije o paladijumu:


www.kitco.com/charts/livepalladium.html

www.kitcometals.com/

finance.yahoo.com

www.investing.com/commodities/palladium

 www.tradingview.com/symbols/TVC-PALLADIUM/

www.tradingview.com/markets/cfds/quotes-metals/

Sto se tice tradingview, vodite racuna jer u vecini slucajeva ljudi pisu gluposti i adhok analize.  Za sada toliko.O paladijumu cemo tek da pricamo. Toliko,odoh.
on Thu Mar 28, 2019 11:04 am
Pozdrav svima,
Paladijum nesto posustaje. Moje 6 culo mi je reklo da ne trgujem paladijum a evo i zasto. Prvo ide D grafikon od prosle nedelje.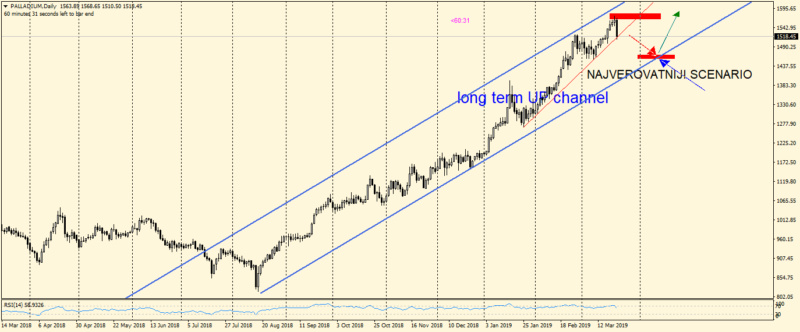 Kao sto mozete videti  sve mi je govorilo da ce cena da udari down korekciju do dojnje kanal linije. Pogledajmo takodje W graf od prosle nedelje.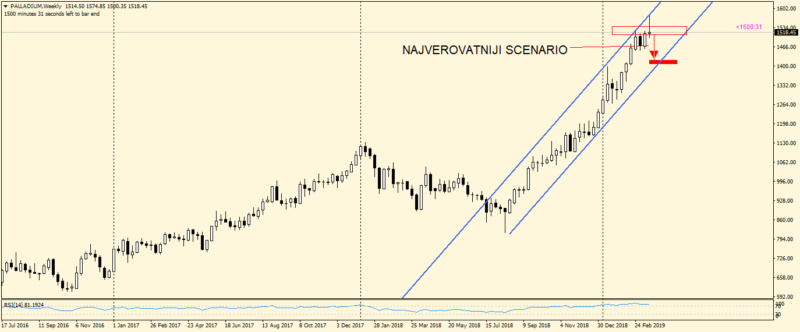 Nisam stigao da objavim ovu analizu prosle nedelje, pa rekoh ajd sad da to odradim. Sad da pogledamo i D graf od danas: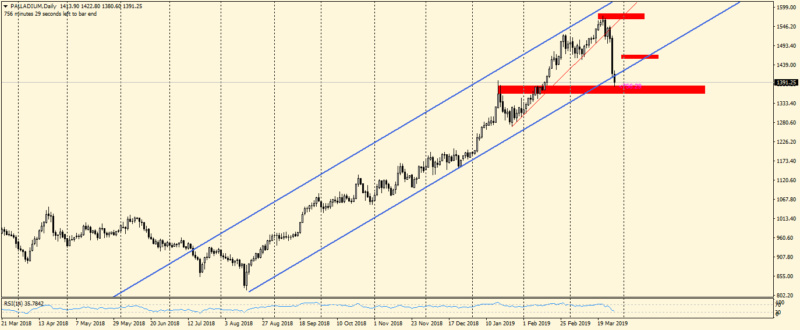 Opa bato, cena se zakucala na dole i probila kanal. Jebiga da sam trgovao sell, sad bih bio u profitu. Moja greska priznajem.Pokolebalo me je to sto ima brate mnogo buke oko paladijuma. Kao npr. Trgovanje sigurica ,itd...
Takodje ja citam, gledam i generalno pratim i sta ima i drugi trejderi da kazu. Pa posto nisam bas bio siguran u ovoliku korekciju, izasao sam iz paladijuma, i otisao na Cink i Aluminijum , sto cu sada da odradim u naredna dva teksta. Sto se tice paladijuma, ako ste propustili ovu korekciju najbolje bi bilo da se malo popriceka ,cisto da se vidi da li ce cena nastaviti svoj pad ili ce da se odbijena na gore od crvene zone koja je oznacena na grafikonu. Toliko odoh.
on Thu May 02, 2019 1:46 pm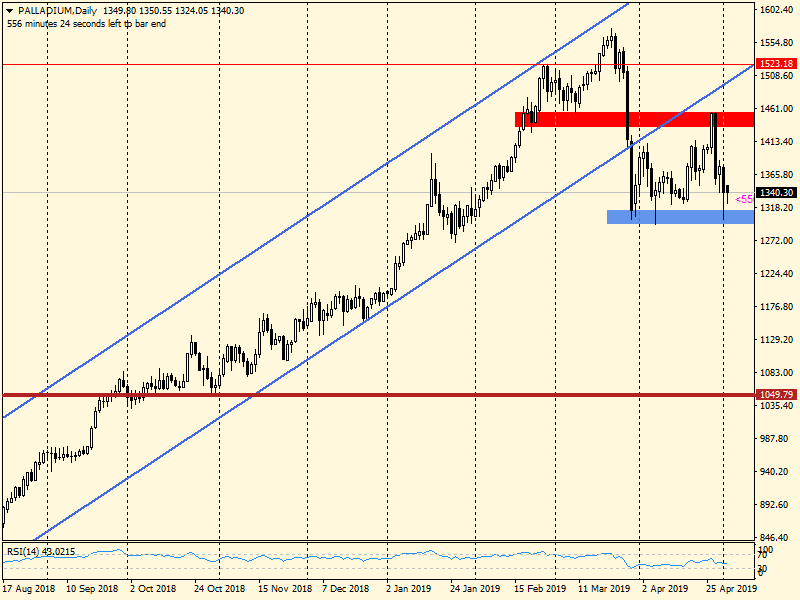 Sto se paladijuma tice za sada ga samo pratim. Na grafikonu jasno mozete uociti da je paladijum probio UP kanala a zatim krenu u  korekciju gde se jasno uocavaju linije podrske i otpora, bar za sada. Stoga da li cemo imati jasan dow ili up trend za sada je neizvesno , bar za mene. Pa ga zato nisam ni trgovao.

Permissions in this forum:
You
cannot
reply to topics in this forum