on Thu Oct 29, 2015 5:05 am
Spread is known as a difference between the ask and bid prices which constitutes income of a brokerage company in most cases.Spread can be represented as:
Spread = Ask – Bid
InstaForex
offers its clients a fixed spread of 3 points for the most traded currency pairs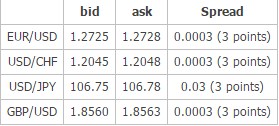 Improving the number and quality of currency positions is the the major goal of the market participant.
The currency position is defined as a correlation between demand and obligations on a currency pair traded in the market. The currency position can be close and open. You should remember that the base currency purchase is called a long position, and the sale is called a short position.
The guiding principal for long positions is "buy low, sell high". You open a long position when you buy the base currency. A trader closes the long position by selling the base currency.
The basic rule of short positions is "sell high, buy low" with an inverted sequence of selling and buying processes compared to the previous principal. In case a dealer expects a currency quote to start falling, he gets rid of this currency. However, he will buy it again, but at a better price when the quote becomes low enough. 
Thus, in both cases the dealer makes profit on the difference between the prices at which the currency was sold and bought. You open a short position by selling the currency and you close it when you buy the currency again
An open position occurs when there is no balance between the ask and bid prices on any currency, and it can be short or long. The position can be closed when the ask on every currency matches the bid.
Let us note that InstaForex  use a 10,000 lot enabling its clients to trade with the minimum deposit amount worth $1.
Opening a long position implies purchasing the EUR (10,000 euros in volume) for 1.2728 US dollars per 1 euro. Balance of long position:
Closing the long position means selling the EUR (10,000 euros in volume) for 1.2750 US dollars. Changes in balance:

Total balance: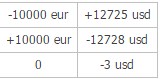 A scheme to balance deals on initially opened short positions.

Opening a short position implies selling the EUR (10,000 euros in volume) for 1.2725 US dollars per 1 euro. Balance of short position:

The short position can be closed by repurchasing the EUR (10,000 euros in volume) for 1.2728 US dollars per 1 euro. Changes in balance:

Total balance: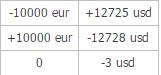 The forex exchange market, Forex, is the interbank market where quotes are mainly delivered by the so-called market makers, which are the world's largest banks. Data on quotes is provided through special networks of the global media majors, including Reuters, Bloomberg, Tenfor, DBC etc. to clients all over the world, namely to all banks, individuals, companies, etc., all those who work with these systems.
InstaForex
made contracts with Dow Jones (Forex and stock markets new), Reuters, and e-Signal for the supply of breaking financial news.
on Tue Dec 22, 2015 8:38 am
It is always wise deal to trade with company that we know all about. In my view our first objective should be to seek out all information about the broker, as that does help us get comfortable. I have figure it all out about my broker
InstaForex
, as now I have been trading with them for past 1 years, it has been heaven like for me in these days. I have been helped in every big or small problem and now I am extremely comfortable making solid profits regularly.
on Fri Jan 29, 2016 5:49 am
When you start your
Forex CFD's
trading you will find that the Forex brokers - online or conventional, do not ask for a commission for their service. But of course, they do not perform their operations for free. They make money by charging a "spread" from the investor. It is therefore very important to find out a low spread Forex trading platform.
on Fri May 27, 2016 8:21 am
It's important to have low spreads, but quality is always more important for me and that's why
LCG
is the best, it's offering lowest spread possible starting from zero, but more importantly have excellent service which makes them the best.
on Sun Jan 29, 2017 11:37 am
The spread is a key part of any financial market. If you have done Forex trading before, then you have probably noticed that there are two types of prices – an ask price that is used when you buy the asset, and a bid price that is used when you sell the asset.
This spread is usually very small and in short, it shows the commission which the broker receives for every opened trade.
Trade.com
is giving the lowest spreads in forex market.
on Wed Feb 01, 2017 8:40 am
The spread is the fact of judging any broker about their status and service. As low spread broker can satisfy most of the clients for opening any trades.
LCG
is such a broker who are offering low spreads with high reasonable leverage.
LCG
is giving best service for the clients for making good traders by giving educational support also. It also offering regular,silver,gold,platinum and swap free accounts and so on.
LCG
is  the best broker in today's market.
on Sat Feb 18, 2017 2:31 pm
XTRADE is proving very lowest spread. Every trader can trade here hope you will feel more comfortable than others. Forex business is online business with 5 days weekly every one can do trade here 24 hours. So lowest spread facility is very much important.Lowest spread will save lots of money of a trader that will help to trade in long term with profitably. Good trading knowledge is also very important to make profit, there are huge difference between new trader and experience trader,An experience trader know how to trade safely with confidently
on Mon Feb 20, 2017 9:26 am
Spread is known as a difference between the ask and bid prices. It can be represented as: Spread = Ask – Bid. It is the main income source of the broker. It is kind of a charge that that deducted from the opening of a position. A good broker with a tight spread is very helpful for a trader. I found a good broker with tight spread named
Papperstone
. They have almost 0.0 spread in EURUSD in ECN platform.
Permissions in this forum:
You
cannot
reply to topics in this forum