on Sun Mar 06, 2016 11:36 am
Canadian Dollar has a massive correlation with oil price and there are some improvements on oil market as well as on the commodity market. Sure, there are other fundamental factors that have an impact on Canadian dollar as well.
Rate of unemployment remains on a high level. But improving situation on commodity market at least should not make this situation worse. If the rate increases – it will have a negative impact on CAD.
US Dollar keeps strengthening against Canadian Dollar and an indicator of technical analysis MACD is near the zero-line. It mens there is a very high probability of new trend formation soon.
on Mon Mar 21, 2016 8:29 pm
NZD/USD. Key event of the week
For the first time since July 2015 positive trade balance is expected in New Zealand. Current economic situation remains of New Zealand remains quite difficult and representatives of Reserve Bank of New Zealand announced yet another rate cut from 2.5% to 2.22%. But if actual results of trade balance of New Zealand are better than expected it will have a positive impact on NZD:
For the last several months Reserve Bank of New Zealand cut the rate from 3.5% to 2.25%. And this fact starts to show first result – GDP growth started to increase and of course, it has a positive impact on NZD as well:

NZDUSD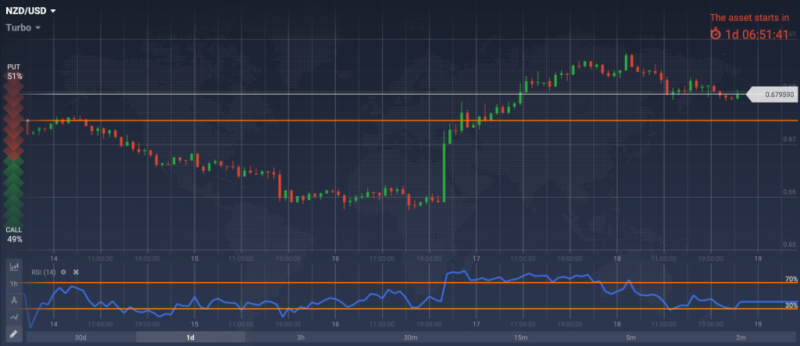 There is no clear trend on NZDUSD at the moment, the rate is moving in a close price range. According to the indicator of technical analysis "Relative Strength Index" there is a flat rate movement, but it can change next week.
on Thu May 12, 2016 7:07 pm
BRENT OIL Key event – US Crude Oil Inventories
(May 12, 2016, 17:30 GMT +3)
There is quite interesting situation in the oil market at moment. After a long downward oil price rally plenty of leading companies decided to postpone their investments into the exploration projects and it lead to specific problems of increasing the oil production.
n Canada which led to the 500,000 barrels a day production decrease;
-  Military conflicts in Libya which led to 120,000 barrels a day production decrease;
-  And one of the key factors – willingness of Iran to join OPEC possible decision to freeze the volumes of oil production on the specific level.
Lately, oil price increased significantly due to several reasons:
-  Fires
That is why a lot of traders pay a lot of attention to weekly " US Crude Oil Inventories" statistics.
Spoiler:
..if actual numbers are higher than the expectations it will have a negative impact on the oil price.
Crude Light Oil chart:
The rate is still moving inside the narrow trading range. It is expected, that it will remain inside the 44,2 – 46,1 range this week.
on Fri May 13, 2016 11:11 am
EUR/USD Key event – Eurozone GDP report
(May 13th, 12:00 GMT +3)
There were several important economic events last week from the Unites States of America and Eurozone. First of all, these are unemployment rate of USA and NonFarm Payrolls (measures the change in the number of people employed during the previous month, excluding the farming industry). Actual data was much worse than the prediction and experts can hardly believe that there will be a rate hike in the US in June:
Spoiler:
In 2016 four rate hikes were expected by market participants, but due to weak CPI numbers and due to specific issues in the labor market these decisions are constantly postponed to a later date.
Unfortunately, there are some specific issues in Eurozone economy as well. Retail Sales data (March) has declined significantly and many experts believe that the leaders of European Central Bank applied an incorrect monetary policy and their plan to cut the interest rate has crashed.
Spoiler:
Retail Sales data has a massive impact on CPI and inflation is the key economic aspect of Eurozone economy at the moment.
This week Eurozone GDP (Q1) report will be a key economic event (May 13th, 2016 12:00 GMT +3):
Spoiler:
Market participants believe that GDP growth will be doubled compared to the previous quarter and if the actual data are as good as the expectations it will have a positive impact on the value of European currency. In the opposite case, EUR will most likely decrease.
If to speak about the US then there will be a publication of several important economic reports on May 13th 2016 at 15:30 GMT +3. These are "Retail Sales" and "PPI". Both numbers have a massive impact on the inflation.
Spoiler:
EUR/USD chart:
There is still an upward trend on EURUSD D1 chart, but there is a short downward correction at the moment and the indicators of technical analysis "Awesome Oscillator" and "Parabolic SAR" prove it.
on Mon May 16, 2016 2:09 pm
USDJPY Key event – Japan's GDP Annualized report
(May 18th 02:50 GMT +3)
Last week several important economic reports came from Japan: BOJ's Bank Lending report, the Index of Leading Economic Indicators and Average Cash Earnings (YoY). All of the findings point to the conclusion that the latest Japanese monetary policy changes are bringing good results and further strengthening of the economy is quite possible.
The biggest economic problem in Japan is low inflation. As soon as this issue is solved – GDP will start to increase as well. Latest economic data is showing a very good (especially CPI related) dynamic. For example, "Bank Lending" was more than 10% higher compared to the expectations:

..Average Cash Lending – actual results were twice higher than the forecast:

..another quite important economic report is "Lending Index" which shows the overall economic situation in the economy (the higher it is, the better):

..and a 10-Year JGB Auction was much better compared to the previous time:

So, it is expected that the preliminary GDP data will be much better as well:

..and if the actual data is as good as the expectations – it will have a positive impact on Japanese Yen.
USDJPY chart:
It is much better to take the lines of support and resistance into the consideration at the moment, cause fundamental factors prevail, as Bank of Japan is using the current situation to take some unpopular decisions which will have a negative impact on JPY in a short-term, but on the other hand they make it possible to solve a lot of economic problems in a long-term.
on Mon Nov 20, 2017 6:03 pm
The next round of central bank meetings, which begins in only a few weeks, is set to be another big battle. With economic data shifting sentiment, bankers edging away from policy changes and the FOMC generally expected to raise rates twice by next spring it is no wonder the currency markets are getting wound up. Today's news did little to alter that.
Japanese trade data came in better than expected, if you count missing on both imports and exports better than expected. Headline trade balance surplus edged up to 0.32 trillion yen, beating expectations for a decline to 0.21 trillion and up from the previous 0.27 trillion. While this is good it is caused by an unexpected slowdown in exports offset by a less than expected increase in imports. Exports came in at +14%, down from last month's 14.1%, and well below forecast of 15.8%. Imports jumped 18.9%, up from the previous months 12.0% but less than the 20.2% expected.
The USD/JPY firmed on the news and moved up from last Friday's long red candle. A little later in the morning strong US leading indicators helped to drive it a little higher. The pair is now moving up from a support level that may prove important over the next month. This support is near the 112.00 mark, a break of which would be bearish. Current target is of course to the upside, near 113.00. Longer term the pair remains within a trading range with lower support at 108.00 and upper target for resistance just above 114.00.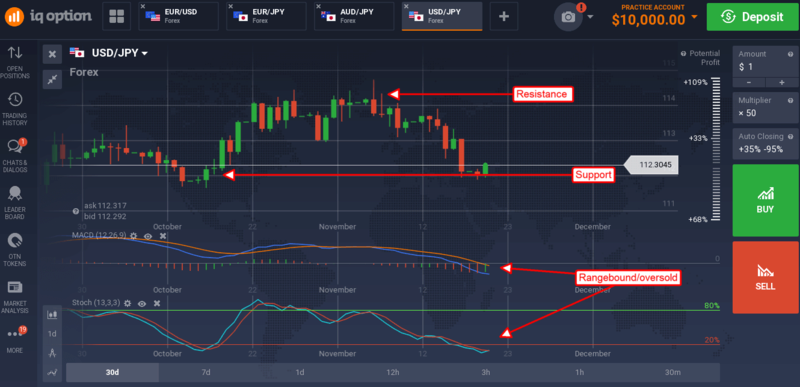 The EUR got little support from the data although traders have not yet discounted the possibility of ECB tightening. Recent data from the EU and its primary drivers of GDP suggest that the economy there is improving and doing so at a rate slightly above expectation. Today's PPI data shows a steady 2.7% increase YOY but is slowing from the previous month and expected to remain tame into the long term.
This, along with comments from Mario Draghi delivered at a scheduled event, helped to curb yen gains and confirm support for the EUR/JPY at the bottom of a near term trading range. Support is near 132.00, a break of which would be bearish with targets near 130.00 and 128.00. A move higher will likely find resistance at the top of the range near 134.00.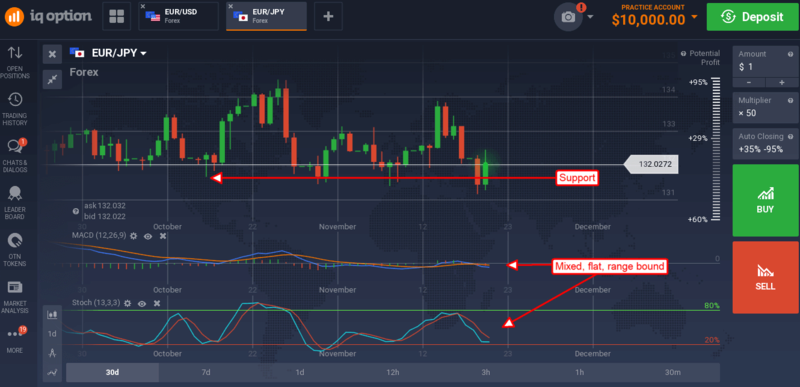 The AUD/JPY has been trending lower over the near term and today's data does not alter that trend. What it does do is confirm potential support near 84.85 while bouncing of a recently set low. There may be a move higher in the near term, to retest the 85.50 level, and this is supported by the indicators.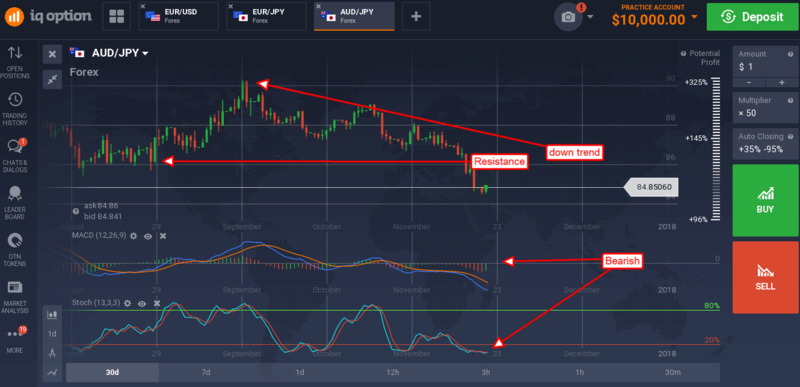 Both MACD and stochastics are bearish but showing signs of support within a down trend. A continuation of the current move could go as low as $82.00 but would require a break through 84.50 to trigger.
Permissions in this forum:
You
cannot
reply to topics in this forum