AMarkets

Number of messages

: 3


Points

: 257


Date of Entry

: 2017-03-16


Year

: 40

on Thu Mar 16, 2017 6:01 pm
16.03.2017
EURUSD: an early consolidation
We're closing our EURUSD positions and considering a long at 1.036.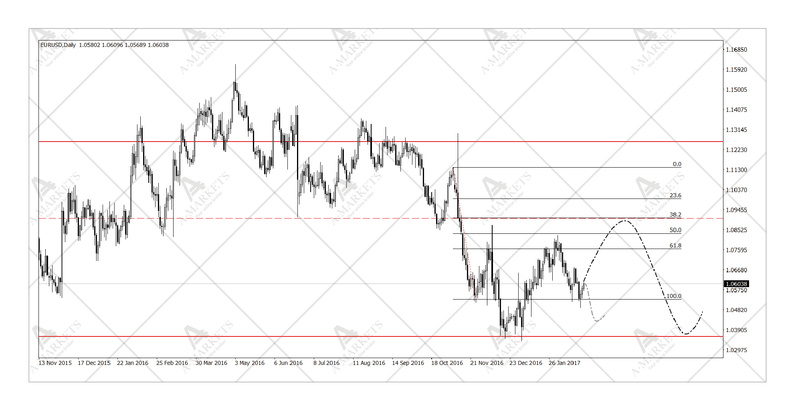 As we mentioned earlier, the euro downtrend is slowly going into pause mode. While the negative news flow surrounding the currency does trigger occasional sell-offs, the price activity on a daily basis is finally starting to look like a consolidation (or a very late phase of a move down). The 1.036 target is still there, but there's also a clear lack of momentum. Price activity is all noise and heavy betting against the euro is now way too risky. 
On top of that, the drop of 12 big figures from 1.15 in August to 1.036 in December has to be corrected appropriately.
Trading EURUSD is generally quite challenging. On the one hand, there's the above-mentioned risk from the French election and the Federal Reserve (Ms. Yellen could still go for a rate hike in March). On the other hand, both these events could serve as a trigger for a higher euro. The task is complicated even from a technical viewpoint as price ranges are likely to overlap. And that's where we recall that euro weakness was most pronounced on the crosses.
EURRUB: where we play the euro corrective move up
We buy EURRUB at 61.5 targeting 63.5/64.9 with a stop at 60.55
When it comes to the rouble, it's all about the technical picture. EURRUB certainly went down fast, reaching all of our targets. There's still the "last support" of 58.6, but going approaching that level would require EURUSD to drop to its corresponding target of 1.036. And that is looking less and less likely. Fundamentally, though, the idea of a EURRUB rally is also well-supported. Russian officials have been vocal about the rouble getting too strong. 
The Ministry of Finance has even started a series of interventions to avoid further currency appreciation. We judge that the ministry's actions are enough sufficient to reverse the trend. But once they coincide with negative seasonality, the negative impact is to be quite pronounced. The rouble is likely to lose 3-5% in that case.
Permissions in this forum:
You
cannot
reply to topics in this forum