gandra

Global Moderator

Number of messages

: 3636


Points

: 7631


Date of Entry

: 2013-01-13


Year

: 47

on Mon Mar 20, 2017 11:45 am
Kao što sam vam i obećao prošle nedelje , ove nedelje radimo novo testiranje AMarkets forex brokerske kompanije. koliko se sećam ja sam obeća test za BKS brokera, ali to će mo uraditi sledeće nedelje , kao i one naredne za XTrade , kao i jedan test za Ayrex Binarnog brokera. Mislim da će naredni testovi ići navedenim redosledom. Sve brokere testiram sa na mojim live računima.
A sada da počnemo...
AMarkets i moja MT4 platforma
Pre početka svakog početka dodajem indikator za veličinu spreda
, samo da ga nadjem pa idemo dalje. Elem otvaranje to jest registrovanje računa kod AMarkets-a ide veoma brzo i jednostavno,  a kada uradite upload vasih dokumenata u trejder kabinetu potrebno je da sačekate verifikaciju i to je to. Indikator za pokazivaje veličine spreda je postavljen na EURUSD valutni par i trenutno je 1,4 pipsa,što se može uočiti na slici ispod.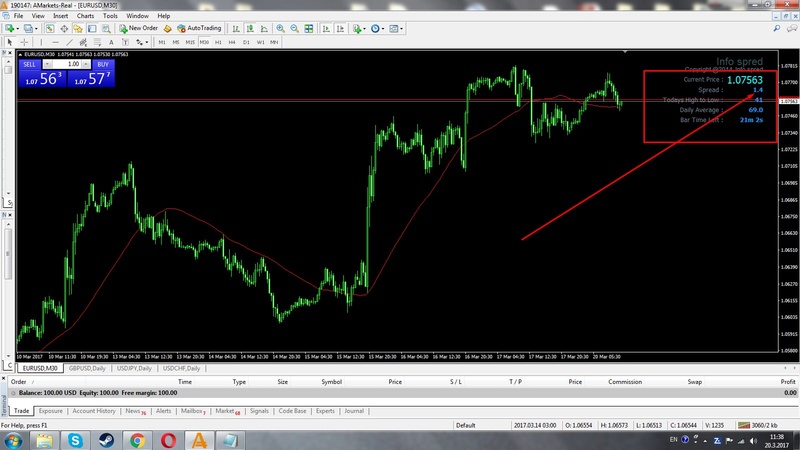 Na koju stranu da okrenemo danas pojma nemam, jer trenutno nemama ni jednu jedinu ideju za otvaranje naloga , te će mo se baviti malo više nekim drugim stvarima. Za sada toliko, nastavak sledi u toku današnjeg dana.
gandra

Global Moderator

Number of messages

: 3636


Points

: 7631


Date of Entry

: 2013-01-13


Year

: 47

on Mon Mar 20, 2017 2:20 pm
Nastavljamo dalje sa AMarkets brokerom. Kada se ulogujete u vaš nalog na AMarkets vebsajtu ima dosta zanimljivh i korisnih stvarčica.Prva od njih je sekcija pod nazivom "Services" ( vidi sliku), koja obiluje sa dosta korisnih alata, a jedan od njih mi je privukao pažnju .
U pitanju je CAYMAN EA,cayman indikator, i cayman MT4 widget. U sekcji "Indicator and MetaTrader 4 widget",možete preuzeti PDF uputstvo kako i na koji način ubaciti ove tri korisne stvarčice u vaš MT4 terminal. Ja se ovim za sada neću baviti.
Još jedna korisna stvarčica je i da broker omogućava  Autochartist na vašoj trgovačkoj platformi.
,
Takođe iz vašeg trejding kabineta možete direktno pristupiti Autochartist trejding signalima : Service/Trading Signals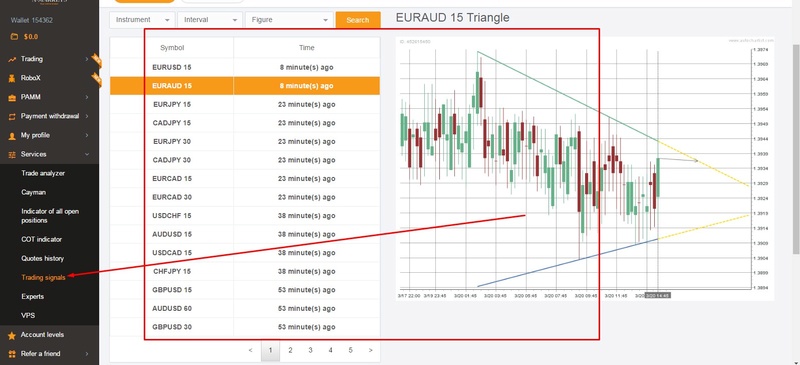 A zatim u sekciji EXPERTS imate veliku listu preporučenih Robota, o kojima možete saznati sve potrebne detalje jednostavnim klikom na svakog od njih pojedinačno.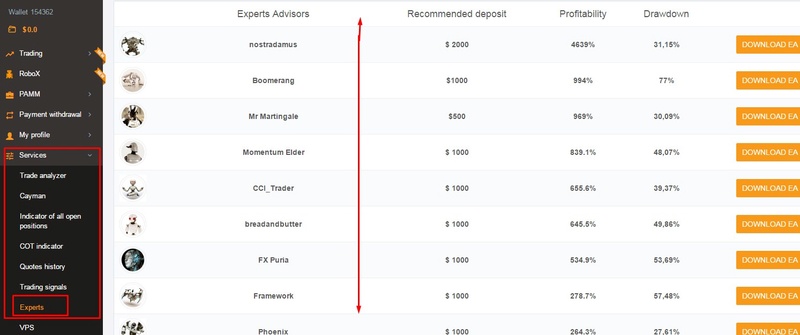 I to bi bio kratki pregled mog AMarkets trejding kabineta. Dok ovo pišem sve vreme pratim veličinu spreda na mojoj platformi. Moj tip računa je Classic , spred plivajuci pocev od 0.0002 na EURUSD valutni par i takodje 0.0002 na GBPUSD. Više detalja o tipovima računa i spredovima pogledajte
OVDE.
Kod mene na platformi Spred za EURUSD trenutno iznosi 1,4 pipa, i na GBUSD 2,3 pipa. Svakako uzimam u obzir da je u pitanju plivajući spred, pa će valjda u neko doba dana biti u navedenim specifikacijama. U sledećem nastavku više pažnje posvetiću samom trgovanju , vidimo se posle.
gandra

Global Moderator

Number of messages

: 3636


Points

: 7631


Date of Entry

: 2013-01-13


Year

: 47

on Mon Mar 20, 2017 9:04 pm
I nastavljamo sa našom pričom o
AMarkets
forex brokeru. Jedan kratak BUY nalog na valutnom paru EURUSD sa podešenim TP i SL-om. Spred je zakucan na 1,4 pipa kao što vidite. 

TP podešen na 45 pipa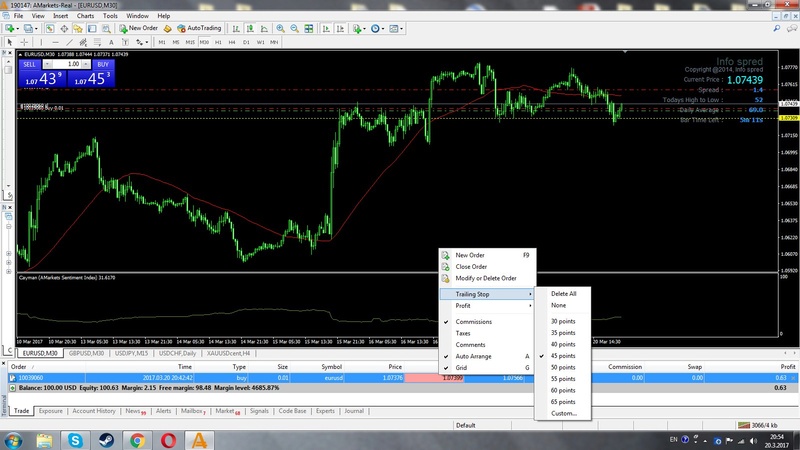 U koliko bude još ulaza tokom večeri ja ću ih objaviti u ovoj temi . Vi možete za to vreme posetiti  
AMarkets
, i njihov
RoboX
investicioni račun.
gandra

Global Moderator

Number of messages

: 3636


Points

: 7631


Date of Entry

: 2013-01-13


Year

: 47

on Tue Mar 21, 2017 11:32 am
Mi nastavljamo dalje sa
AMarkets
brokerom.
Sinoć sam otvorio jedno kratko BUY na valutnom paru GBPUSD, nalog je zatvoren tokom noći u plusu . Ono što me strašno nervira kod ovog brokera je veličina spreda koji je skoro uvek isti ili  pak ide i do 3 - 4 pipa na GBPUSD . AMarkets definitivno nije broker za skalping. Veličina spreda jednostavno vam ne dozvoljava brze ulaske i izlaske iz pozicija. Moj Način rada je otvaranje jednog buy ili sell naloga , a zatim kada sam u plusu podesavanja za TP,  SL i TS. To sa ovim brokerom nema šanse te stoga mora da budete dobar strateg i tehničar.

Ovo trgovanje čist rizik. Srećom u plusu.

Spred na EURUSD i dalje 1,4 pipa zakucano. Ne znam šta da mislim? Iskreno svi moji nalozi su kratki nalozi ali ako ja zbog veličine spreda moram da čekam pozitivu dva sata radi kasnijih podešavanja , pogotovo ako je tržište mrtvo ,to je onda za mene veoma veoma dug nalog. Tema o 
AMarkets
 brokeru biće aktuelna tokom cele nedelje sa primerima trgovanja.
Uskoro počinje novi test jednog Forex Brokera koji ima spred tanaka kao ivica žileta. O njemu nije pisano na mom forumu ni jedna jedina tema, a takođe kompanija nije vidljiva ni na jednom listingu desno. U pitanju je iznenađenje za sve vas a i za mene verujte mi na reč. Kod ove kompanije takođe radimo test ali sa njihovim novcem to jest bonusom bez depozita.
gandra

Global Moderator

Number of messages

: 3636


Points

: 7631


Date of Entry

: 2013-01-13


Year

: 47

on Wed Mar 22, 2017 4:12 pm
gandra

Global Moderator

Number of messages

: 3636


Points

: 7631


Date of Entry

: 2013-01-13


Year

: 47

on Wed Mar 22, 2017 8:43 pm
Novi Sell Nalog na valutnom paru EURUSD

Ove dve zute linije sto vidite je stara i prosta fora. Kako se trguje sa dve linije sada cu da vam objasnim. Prvo je potrebno da se odlucite za vremenski opseg. U mom slucaju to je M30 , zatim postavite dve paralelene linije. Sve sto je iznad donje linije vi kupujete a sve sto je ispod gornje linije vi prodajete. Kada je trend izvan ove dve linije vi ne trgujete. Drugi vremenski okviri vas ne interesuju i ne treba da ih posmatrate u opste jer vam mogu pokvariti taktiku sa ove dve linije. Taktika je prosta da prostija ne moze biti. Tgovanje sa dve linije moze biti primenjeno na bilo kom vremenskom okviru a u zavisnosti od toga koliko brzo zelite da pravite profit. Ako postavite dve linije na D grafikon , hehh moj brajko onda ce da se nacekate...
Sve do M30 je prihvatljivo za mene a ako pak zelite da idete brze onda M5 ili M15 grafikon. Sa AMarkest brokerom nastavljamo do petka ove nedelje
gandra

Global Moderator

Number of messages

: 3636


Points

: 7631


Date of Entry

: 2013-01-13


Year

: 47

on Thu Mar 23, 2017 11:12 am
Permissions in this forum:
You
cannot
reply to topics in this forum