on Tue Nov 14, 2017 11:45 am
Bitcoin Cash (BCH) reached lofty levels above $2,500 over the past weekend. The move was quick, sharp and surprising leaving many traders wondering what happened. The short and easy answer is that the Bitcoin development community decided to cancel the Segwit2X hard fork that had been scheduled for later this week. The more complicated answer is how that cancellation has affected the market.
To briefly recap Segwit, or segregated witness, it is a protocol change for Bitcoin that was expected to help increase the block size of the blockchain. That was important because it would speed up the rate of Bitcoin transactions, help increase the networks efficiency and make it better suited for day-to-day financial transactions as it was originally intended to do. The protocol change was broken down into 2 different hard forks, the first of which created Bitcoin Cash.
Bitcoin Cash did not at first receive the credit it was due. While a large portion of the mining and investing community viewed it as a superior version of Bitcoin there was still the Segwit2X hard to contend with. This hard fork was meant to continue on with upgrades begun with 1X and correct many of the issues facing Bitcoin today. The apparent inevitability of the fork and the probability of newly created Bitcoin2X tokens helped to drive the price of Bitcoin to new all time highs near $7,500. It also kept other altcoins including Bitcoin Cash, Ethereum and Litecoin trending sideways.
The cancellation of Segwit2X came about because of a widespread lack of interest from the mining community. Developers decided it wasn't worth a hard fork if it would further fracture the community. Once announced a number of things happened. First, traders hoping to gain from the 2X fork had no more reason to be in Bitcoin while other tokens were lagging the market. They instantly began taking profits and moving those profits into other coins including BCH, ETH and LTC.
Second, traders, investors and miners who had hoped to be part of a better version of Bitcoin found themselves on the wrong path. They also sold out of BTC in favor of BCH and/or switched their rigs from BTC to BCH because BCH has turned out to be the better choice (for those looking for a faster a Bitcoin network). Li Ang, head of China based mining pool Canoe Pool, was sent out a statement in the wake of the cancellation with this title "Bitcion Cash Is Bitcoin Now".
The question, what will happen now? is being asked across the investment and trading community. Some see the end of Bitcoin although that is far from likely. What is possible however is what some have labeled the "flippening", the possibility BCH will gain the upper hand and trade at a premium to Bitcoin. This is because Bitcoin sans 2X will remain a better store of value than an exchange while BCH has already handled the block size issue, is faster and more readily usable for generalized transactions.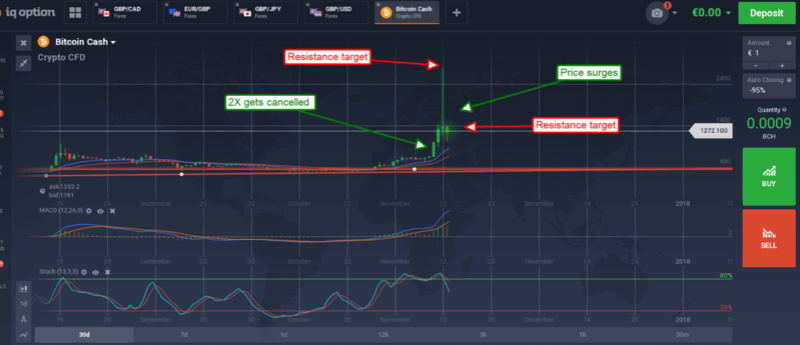 What traders need to remember is that the wild moves in both BCH and BTC that occurred over the weekend are only the first in what is likely to be a long and drawn out battle for dominance. These moves are driven by news, include a large amount of speculative interest and are likely to result in equally large snap-backs until volatility within the market dies down.
A look to the BCH/USD chart is a prime example of what I mean. BCH hit extreme highs near $2,800 but has settled back to a more "reasonable" price near $1,200. No doubt early holders of BCH found 1000% gains too attractive to pass up. The flippening may happen but I don't think it will be too soon, there is quite a bit of technical resistance for BCH to overcome.
For those who didn`t know, Bitcoin Cash was born from a Bitcoin fork, on 1st August 2017, with the aim of creating an alternative solution to the scalability problem of the bitcoin network, which is one of the most discussed factors when it comes to cryptocurrencies.
The problems that began to emerge in BTC were due to an exponential increase in commissions paid during transactions, and the time needed to confirm a transaction, which has become excessive.
Bitcoin Cash has therefore come up as a solution to these problems by increasing the maximum size of a single block to 8mb (versus 1mb of BTC) and altering the value of Emergency Difficulty Adjustment (EDA), which adjust the algorithm of difficulty faster than BTC.
The creation of Bitcoin Cash, however, did not go unnoticed, and created an even more profound division in the Bitcoin community, where there has been divergent opinions about the solutions to be implemented to solve the bitcoin scalability problem.
There are several Bitcoin Cash supporters, mostly miners and entrepreneurs:
Bitmain, for example, Antpool's largest Bitcoin mining company in the world, with a 23% share of Bitcoin's total hash power. And Roger Ver, CEO of Bitcoin.com, named "Bitcoin Jesus" for his role as a Bitcoin promoter since the early years, and now become an important supporter of the Bitcoin Cash movement.
Roger VerThese divergences have certainly influenced the market, which in recent days has seen fluctuations that have blown investors minds from around the world.
The third currency in terms of market cap is now above $ 1180, with a slight increase of around 1% over the last 24 hours, but with a decline compared to last few days, when the currency hit $ 1856.
The major fluctuations occurred after the sudden decision to cancel a software implementation, called Segwit2, which would increase the size of a bitcoin block. Those who supported this software implementation, simply called 2X, just transferred funds and mining power to Bitcoin Cash, resulting in an exponential increase in transaction volume and a drastic reduction in BTC market value.
The debate between the two versions of Bitcoin is still very open. Some Bitcoin Cash supporters like to mention to the original Bitcoin white paper by Satoshi Nakamoto, which says that Bitcoin is a global payment system, not a simple store of value. While BTC supporters consider Bitcoin Cash as one of the many alternative coins on the market.
We can`t know yet which one of the two versions of Bitcoin will prevail.If we just observe the global interest of investors, BTC is still the market leader, with a 56% dominance. But if we have to stick to the original definition of Bitcoin, as a peer to peer electronic cash system that doesn`t require intermediaries, Bitcoin Cash definitely has more potential to become the leader.
We will see, the market will decide?
Permissions in this forum:
You
cannot
reply to topics in this forum