tradeoption

Number of messages

: 16


Points

: 1114


Date of Entry

: 2014-12-08


Year

: 37

on Thu Dec 18, 2014 10:19 pm
With Ladder Options, the Strike Prices are spaced at equal intervals, just like the rungs of a ladder, and for each preset level you simply have to predict whether the underlying asset will close above or below the Strike Price by a certain point in time; as there are 5 Strike Prices for each Ladder Option, you have multiple opportunities to place a trade at different Payout percentages with a potential return that can reach up to 1500%.
If you want to close a position early, simply click 'Sell' and you will automatically receive a price based on a statistical matrix that calculates: option trading rules, time to expiry, market volatility, and target/ strike price. If you accept the price offered, the position will be closed.
Features:


Benefit from classic Up/ Down trading

5 Strike Prices, 5 opportunities to profit

Make several predictions for the same asset

Profit from market volatility

Predict whether an asset will reach specific levels on the Ladder

'Close a position early' functionality

tradeoption

Number of messages

: 16


Points

: 1114


Date of Entry

: 2014-12-08


Year

: 37

on Fri Jun 19, 2015 12:28 pm
The ABC of Binary Options
Binary Options are also known as Digital Options/ All or Nothing Options,
Binary Options Facts


   The word "Binary" is defined as involving the choice of two alternatives.

   Binary Options traders have the choice of two actions – whether the value of a specific financial asset will rise or fall over a set period of time.

   Binary Options are suitable for all traders, from beginner to advanced.

   Binary Options offer the possibility of extremely high rates of return of up to 85% (up to 550% for One Touch).

   Payouts for successful predictions are based on directional market movements, not the degree to which the value of an asset may have risen or fallen.

   With Binary Options, the risk is predetermined, because you are simply predicting whether the market price will rise or fall by a specific point in time.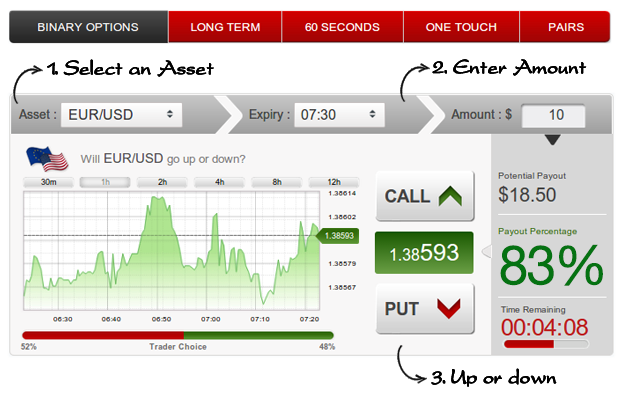 Placing Your First Trade


   OptionTrade offers five Option Types: Classic, Long-term, One Touch, 60 Seconds and Pairs.
   Select the asset
   You have the choice of more than 200 financial assets spanning 20 markets.
   Depending on the specific binary option type being traded, the expiry time can vary. The shortest expiry time is 60 seconds and the longest is up to the end of the calendar year.


   Enter your investment amount

   The minimum investment amount is just $5 and the maximum is $1500.


   Predict whether the price will rise or fall

   Every binary option states a fixed payout if your prediction is correct. This can be anything up to 85% (550% for One Touch Options).
Example:
A trader invests $100 and predicts that the value of OIL will increase. The expiry time of the option is 1 hour and the payout is 85%. The trader receive a payout of $185 (that is a profit of $85), if the prediction proves to be correct. Conversely, if the prediction proves to be incorrect, then the amount invested in the option will be lost.
talonsalina

Number of messages

: 15


Points

: 755


Date of Entry

: 2015-11-13


Year

: 26

on Sat Nov 14, 2015 7:32 am
Binary options trading is one of the most beneficial forms of trading and offers the trader's various options to implement different strategies. If binary trading is conducted properly, a trader can earn a good amount of money. And it uses a simplified trading strategy as compared to conventional options trading. All in all, binary trade is a quicker type of trading which is gaining more and more popularity among traders and binary options brokers.
vix69

Number of messages

: 34


Points

: 816


Date of Entry

: 2015-10-08


Year

: 35

on Tue Dec 01, 2015 8:22 am


Binary trading or Forex Trading! Both are almost similar and the only thing in binary trading is that you can trade specific asset by specifying the time frame as well. This means that you don't have to hassle calculating stop losses and take profits however it is bit easier than forex trading. Many forex traders have switched from forex to binary as the payouts are higher and efforts are low. I also traded forex for some time but but currently shifted to binary trading at optiontrade, its doing better than my forex trading.
tradeoption

Number of messages

: 16


Points

: 1114


Date of Entry

: 2014-12-08


Year

: 37

on Tue Mar 08, 2016 7:15 pm
About Classic Binary Option
Also known as Digital or High/Low Options, our Classic Binary Option allows you to select assets and expiry times from user-friendly drop down menus; specify your investment amount and predict whether the classic option will rise or fall. It's as simple as that.
You can also view Classic Options in multi-view mode and enter multiple trades quickly and easily from the same screen.
Features:
- Multi-view or single view trade screens
- Simple trading process. Visit How to Trade to learn more
- High potential returns of up to 85%
- Over 200 assets to choose from
- Easily monitor your open positions
- Review your trade history
- Option Tools - Double Up, Rollover, Sell, etc.
- Easy deposit and withdrawal process
Permissions in this forum:
You
cannot
reply to topics in this forum