fxcc

Number of messages

: 36


Points

: 1114


Date of Entry

: 2015-01-27


Year

: 36

on Wed Feb 25, 2015 1:01 pm
Who said slippage always goes against you?! Probably your broker.
Forex slippage is an example of a pretty normal forex trading occurrence that is usually spoken of as a bad thing. When it goes against you it is, but slippage can also work in your favour.
Here at FXCC, we treasure transparency. Since we have nothing to hide, here's the real story about slippage.
Slippage is defined as the difference in pips between the order price and the execution price for a particular transaction.
For example, you ordered to BUY 1 lot of EURUSD at the Market Price of 1.35050, the order was sent out through MT4 to the liquidity provider and then the confirmation message comes back informing you that your order was executed at 1.35055.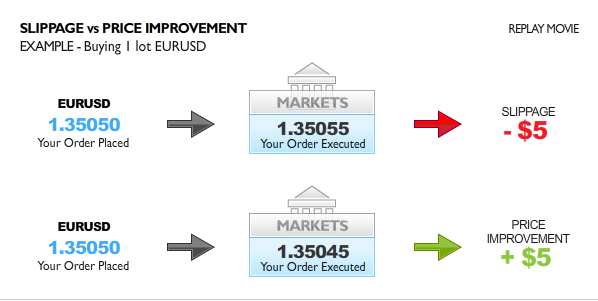 Slippage = 1.35050 - 1.35055 = -0.00005 -> -0.5 pip EURUSD = -5 USD
You just lost 5 USD in slippage. It could happen even with an ECN broker when you're trading at market price due to the fact that prices move so fast, they could change before your order reaches the Liquidity Provider for execution; blame it on network speeds and market volatility.
Interestingly enough though, and this is what most brokers rarely tell you, slippage can actually work in your favour as well. Take the example trade and if the price changes from 1.35050 to 1.35045 you're actually $5 better off just from the positive slippage.
Shocking – but true. It's what we call Price Improvement and it's the part of slippage some brokers like to keep to themselves.
Here's a little secret:
Trade with FXCC ECN broker
and shocking stuff like price improvement is one of the things you'll have to get used to. All part of what we like to call "The truth, the whole truth and nothing but the truth". FXCC style.
Vlad

Number of messages

: 211


Points

: 1209


Date of Entry

: 2015-04-21


Year

: 28

on Fri May 15, 2015 8:00 am
It is good, that you don't have slippage problem. I have already been trading with FxPro, it doesn't have this problem too, But I want to open one more account and will consider your company.
Eric Young

Number of messages

: 34


Points

: 136


Date of Entry

: 2017-09-07


Residence Country

: Slovenian

on Fri Sep 29, 2017 8:00 pm
Slippage is the time when a demand is filled at an esteem that is novel in connection to the requested cost. Most discourses I hear as for slippage tend to discuss it in a negative light, when in doubt, this conventional market occasion can be something worth being grateful for traders. For every buyer with a specific cost and trade measure, there must be an identical measure of merchants at a comparative cost and trade appraise. If there is ever an ungainliness of buyers or traders, this is the thing that influences expenses to climb or down. It in like manner happen when a broker needs liquidity. I trade with FXTM. I am happy with them as they dont give slippage an requote.
Roland Branch

Number of messages

: 36


Points

: 230


Date of Entry

: 2017-07-10


Year

: 40

on Fri Oct 20, 2017 10:02 am
Sometimes it is hard to trade when you don't have proper support for trading with proper conditions. There are many brokers making fake promises and when it is time, they show their list of terms and conditions which as a trader 99% do not read properly. AGEA broker is one of them. They are a fraud and provide slippage and requotes. They are not transparent with their activities and policies.
Jitendra Patel

Number of messages

: 14


Points

: 178


Date of Entry

: 2017-07-09


Year

: 37


Residence Country

: Bangladesh

on Fri Oct 27, 2017 5:25 am
Your trade always depending on how much favorable environment they providing to you. I am with 

FxPro

 broker which is a multi-award winner broker that offers exceptional online trading services for forex. I have chosen them due to their lowest trading spreads which is really supportive to predict the real faction of this market with certainly when scalping practically. I can choose full range of simple and complex order types with automatic execution and reliability.
Jennifer Billings

Number of messages

: 18


Points

: 179


Date of Entry

: 2017-07-10


Year

: 26

on Sat Oct 28, 2017 7:51 am
Forex is the greatest market on the planet, with step by step volumes outperforming $3 trillion consistently. This market is the establishment of general trade and overall investing. It is undeniably possible to win much money and be rich as a forex trader. People fear forex in light of the fact that they don't have enough taking in and suitable assistance from their broker. In case you are with right broker and if you have the correct perspective, great trading procedure then this business is for you. My experience in this market with 
FxPro
 is recently astounding.
I have been using their regulated trading platform from my first day of trading as a result of secure trading condition. From here I can use my any trading frameworks including slightest trading spreads too minimum edge requirements.
Permissions in this forum:
You
cannot
reply to topics in this forum