on Mon Aug 17, 2015 2:53 pm
IFX_DAO
indikator (dvostruki fenomenalni oscilator - Double Awesome Oscillator) je varijanta fenomenalnog oscilatora kojeg je Bil Vilijams predstavio u svojoj teoriji haosa trgovanja. Indikator se sastoji iz dve linije izvanrednog oscilatora, brze i spore.
---
Formula


Medijana cene = (NAJVIŠA + NAJNIŽA) / 2
Fenomenalni oscilator = SMA (Medijana cene, 5) — SMA (Medijana cene, 34
---

Korišćenje u trgovini
U okviru Meta Trader-a 4, ovaj oscilator kombinuje dva fenomenalna indikatora (AO) koji su na grafikonu prikazani u obliku histograma.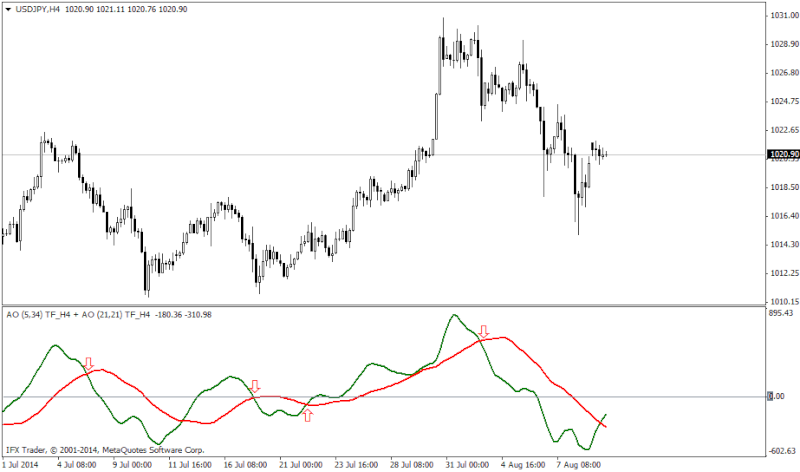 Osnovno  pravilo za trgovanje pomoću dvostrukog fenomenalnog oscilatora:


Indikator daje signal za kupovinu kada crveni histogram bržeg fenomenalnog oscilatora (AO) preseče zeleni histogram sporijeg AO odozdo na gore

Trgovci treba da izvrše prodaju kada crveni histogram bržeg AO preseče zelenu liniju sporijeg AO odozgo na dole

Trgovine treba zatvoriti kada se histogrami ponovo međusobno ukrste

Uzdržite se od trgovine kada su linije indikatora usmerene bočno. Bolje je da otvorite trgovinu kada primetite da je trend očigledno formiran za određeno finansijsko sredstvo

U slučaju da linije indikatora prikazuju mešovito kretanje, treba da trgujete u skladu sa pravcem linije sporijeg AO

---
Visit the broker who is the TOP board selection. Broker offers the possibility of trading Binary Options with 91% profit, Digital Options with 900% profit, Forex/CFDs trading, Cryptocurrency trading, as well as Token mining. According to our board they are currently the best company on the market today.
---
Permissions in this forum:
You
cannot
reply to topics in this forum