gandra

Global Moderator

Number of messages

: 3636


Points

: 7632


Date of Entry

: 2013-01-13


Year

: 47

on Thu Mar 06, 2014 10:55 pm
14.02.2014
13:32:34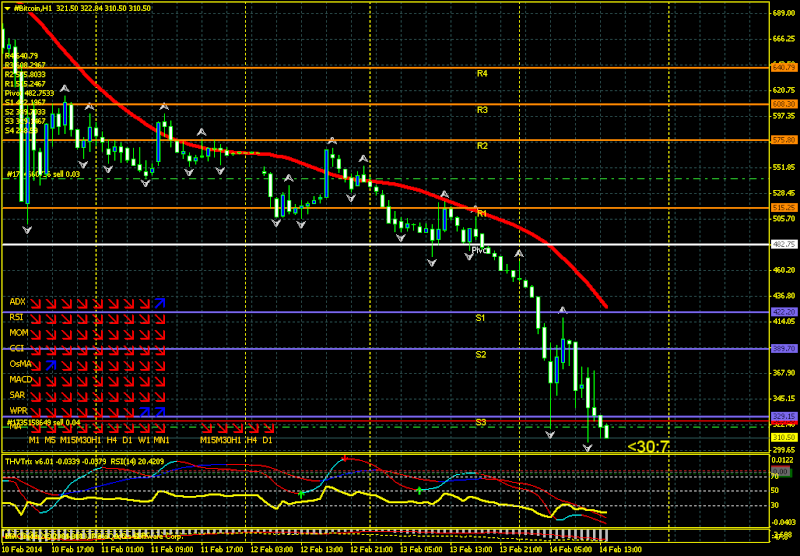 Posmatramo H1 grafikon sa moje MT4 platforme.
Šta reći o Bitkointu ,kuda ide ova elektronska valuta i gde će da završi dugoročni pad .
Svi znamo da je BTC pri ulasku na Forex počeo naglo da zakucava dnevne vrhove i sve je to trajalo do cene od 1084.14,gde je krenuo nagli sunovrat.
Moja predpostavka je da je pod uticajem jakih lobija cena naduvavana namerno,pogotovo od kompanija koje se bave mining-om , mada na tržištu vlada zakon ponude i tražnje te mi u opšte nije bilo jasno ko u velikom obimu kupuje BTC.
Vrednost bitkointa je nesporna,jer vam omogućava da za određeni iznos kupite ovu svetski  priznatu elektronsku valutu i otputujete u Ameriku bez novčanika u džepu.
Česta tema u zadnje vreme je da  BTC nije legalan,da nije regulisan,da će nestati,itd..
Ja vam kažem sigurno neće iz jednog prostog razloga ,kotira se na berzi.
Vrednost BTC-a će se vratiti u normalu u odnosu na druge valute i to je to.
Kako da trgujemo to je ono što nas zanima?
Iz gornjeg grafikona možete videti da imam dve otvorene SELL pozicije.
Prva gornja pozicija je otvorena 10.02 a druga danas.
Preporuka je svakako SELL do koje cene i dokle će da pada to je pitanje,ja generalno nisam podesio TP i tu opciju sam ostavio otvorenu pošto predpostavljam i dalji pad.
Svoju trenutnu zaradu i poziciju ću zaštititi podešavanjem SL-a ,ali čekam da cena još padne ispod 319.94.
Kada se to desi onda podešavam SL na 268.95.
U tom slučaju mirno spavam TP nije podešen jer će i dalje BTC da pada , A ukoliko dođe do nepredviđenih okolnosti i BTC uđe u Bikovski trend reagovaće moj SL i moja zarada je zaštićena.
Do koje cene će padati BTC.
Moja predpostavka je do cene 110.00 a možda i niže .
Permissions in this forum:
You
cannot
reply to topics in this forum